Experienced Brewer


Posts: 302
Joined: September 12 2007
Location: Ontario
Thanks given: 0
Thanks received: 0
Ok guys this is the safest and easiest way to flash themes onto your psp with firmware 3.52M33-4
Installation
1. Download the CXMB package here-->
http://www.badongo.com/file/4650483
if this doesnt work for you try here-->
http://www.sendspace.com/file/8xm7rj
2. Unzip the folder to your Desktop for easy access.
3. Next go into CXMB and copy the
themes
,
seplugins
,
PSP
and
cxmb
folders to the root of your memory stick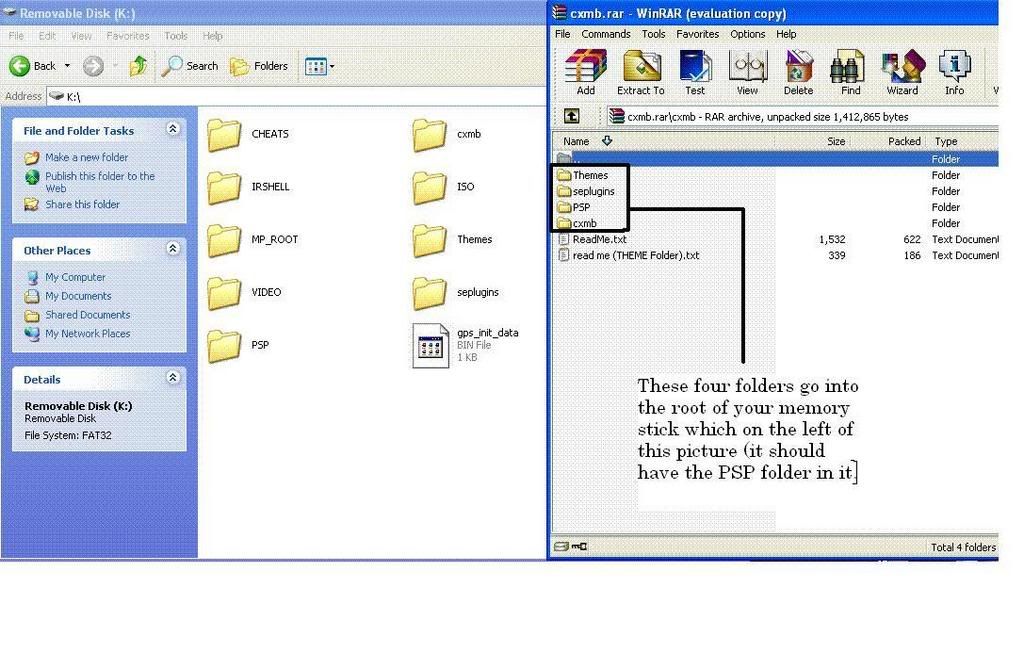 4. Now to add themes all you do is place your theme into the
Themes
folder but it must look like this with the exact names of the folders. (if it asks you to overwrite click
yes to all
)
First Put your theme in a folder and name it wat u want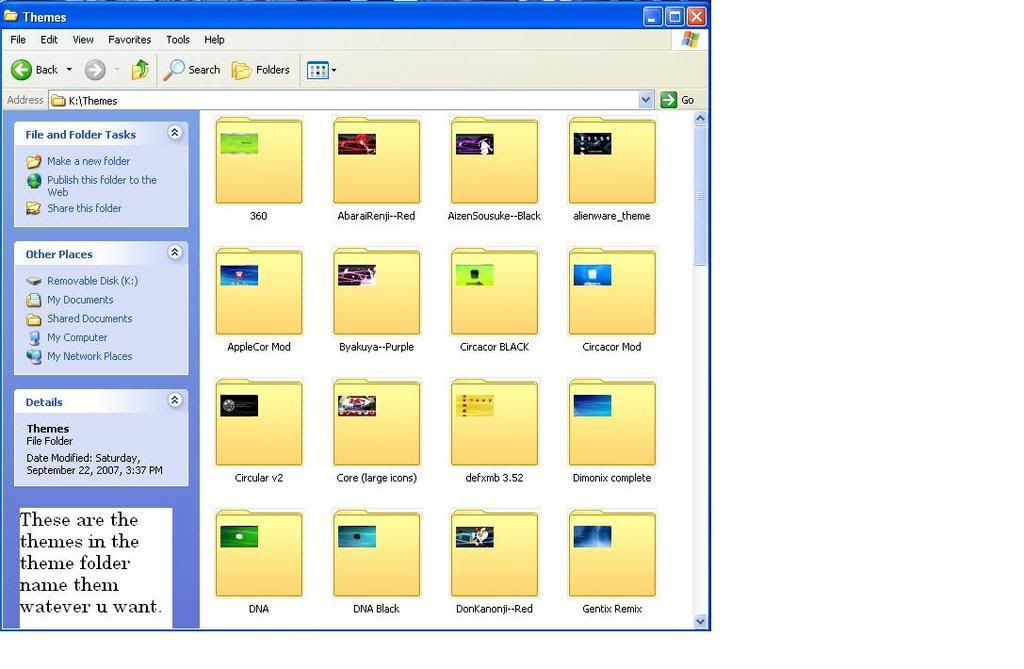 Then make these folders and put the nessessary files you have into each folder dont worry if you dont fill each folder
If you don't want to go through the trouble of this i have some 3.52M33-4 themes in the Full XMB Themes here
5. Now turn off your PSP and go to your Recovery Menu. (Push power button up until screen turns off then Turn on your PSP holding the
R trigger
6. Go to Plugins and enable cxmb.prx.
This is a must do otherwise when you apply yout theme later on you will not see the theme
. Now go back then exit the Recovery Menu.
7. Now go to your PSP then into your game menu and load the
Theme Selector
.
8. Once loaded u will see your themes but in a random order.
Start
is to apply the theme
Select
is to exit and
D-Pad Up
and
D-Pad Down
is to select a theme.
9. So choose your theme then when your happy click
start
and it will auto exit to the XMB for you do not turn off your psp during this process or u will have a semi brick
10. Thats all there is too it!
any problems just ask!
Last edited by
Beatz
on Thu Dec 13, 2007 11:54 am, edited 4 times in total.

My Psp Life> 2.6>2.71>2.80>3.03>1.5YES!>3.03OE-C>bricked!>1.5>3.03OE-B>
bricked!>1.5>3.03OE-C>1.5>3.03OE-C>3.40oe-a>3.52M33-4